How It Works
The OnCentral Network is a collection of Portals (public web sites) that are dedicated to a specific technology such as MVC, PHP, CSS, LINQ, REST, etc. The content is authored by developers like you.
The way it works is, if you want to author content for any of the OnCentral Network portals, simply Register and begin authoring!
Step 1 - Select Portal
Once you have logged into the Secure Dashboard, you will be presented with a list of Portals. Simply click on the Portal you want to author a story for and move to the next step. In the future you will see more and more Portals become available. Simply choose the one you want to create quality stories for and away you go.
The small numbers in the green boxes at the top right corner of each Portal box shows the number of stories YOU have authored for this portal.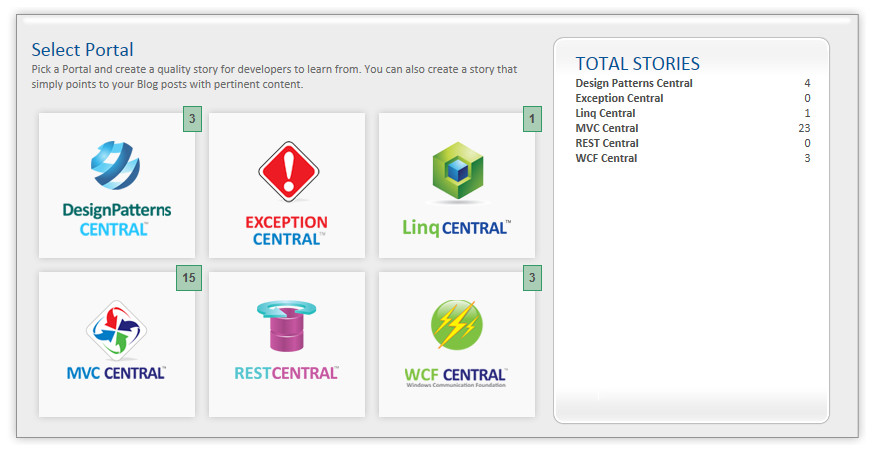 Step 2 - Choose Story Type
A story type is like a category. At the moment you will have six Story Types to choose from. They all function the same, but their content will be isolated to it's category for searching etc. You'll notice that this image shows the story types for the MVC Central Portal.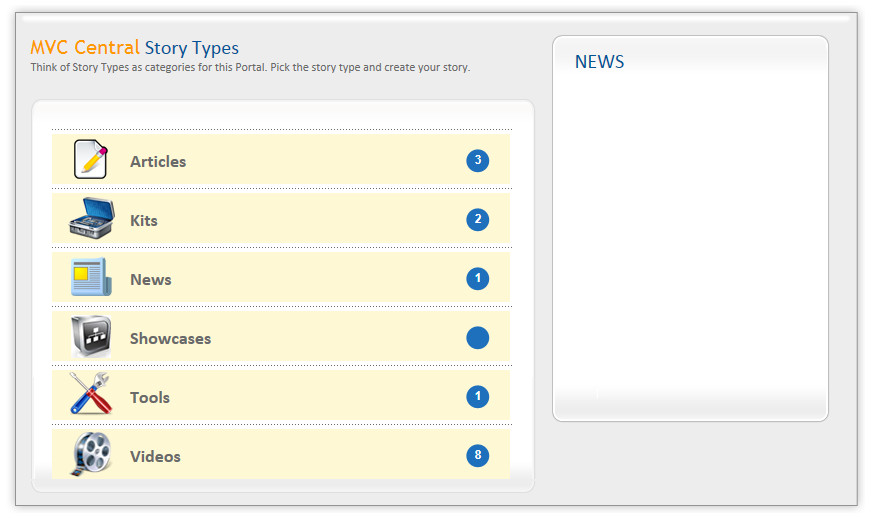 Step 3 - Author your story
Once you've chosen the Portal and Story Type, you can now create or update your stories. You'll see that this image shows that you've chosen to create stories for the MVC Central portal and the Articles story type.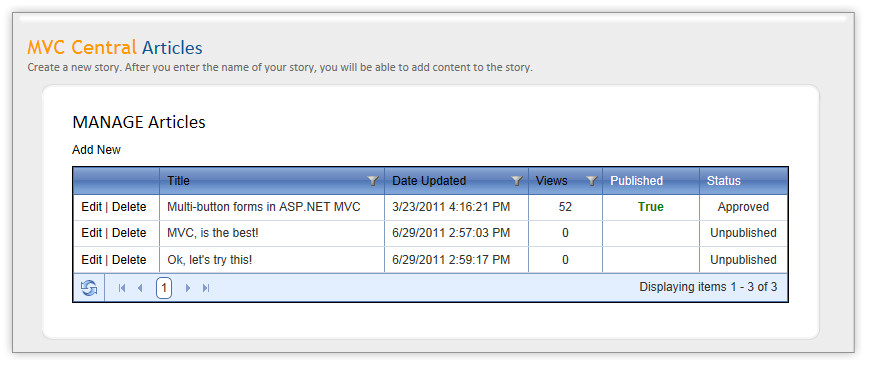 That's it! Now you can simply create the stories.
Story Approvals
You are free to create content for any of the Portals, but once you Publish your story, it will go through a Review process. Only top quality stories will be accepted. Once your story is approved, it will be instantly available in the Portal for the public to view.
For Rejected Stories, you will be notified why the story was rejected. It could be on something as simple as grammar or misspellings or as egregious as purposefully placing security violating code such as CSRF, XSS, etc in your stories. These types of violations are not accepted or tolerated and you will be instantly removed from our system and your IP address logged.
Again, we want quality content, which includes proper grammar, spelling and knowledge of the subject matter. If your story was rejected, simply correct the issues, and re-publish your story. It will go through the Review process again.
Ownership
By creating content for the OnCentral Network you acknowledge that you are the sole owner of this work and it does not appear anywhere else on the web. The only stipulation to this is if you maintain your own blog with content and you are simply creating stories that point back to your blog, which is perfectly acceptable. But otherwise, your stories must be your original work.